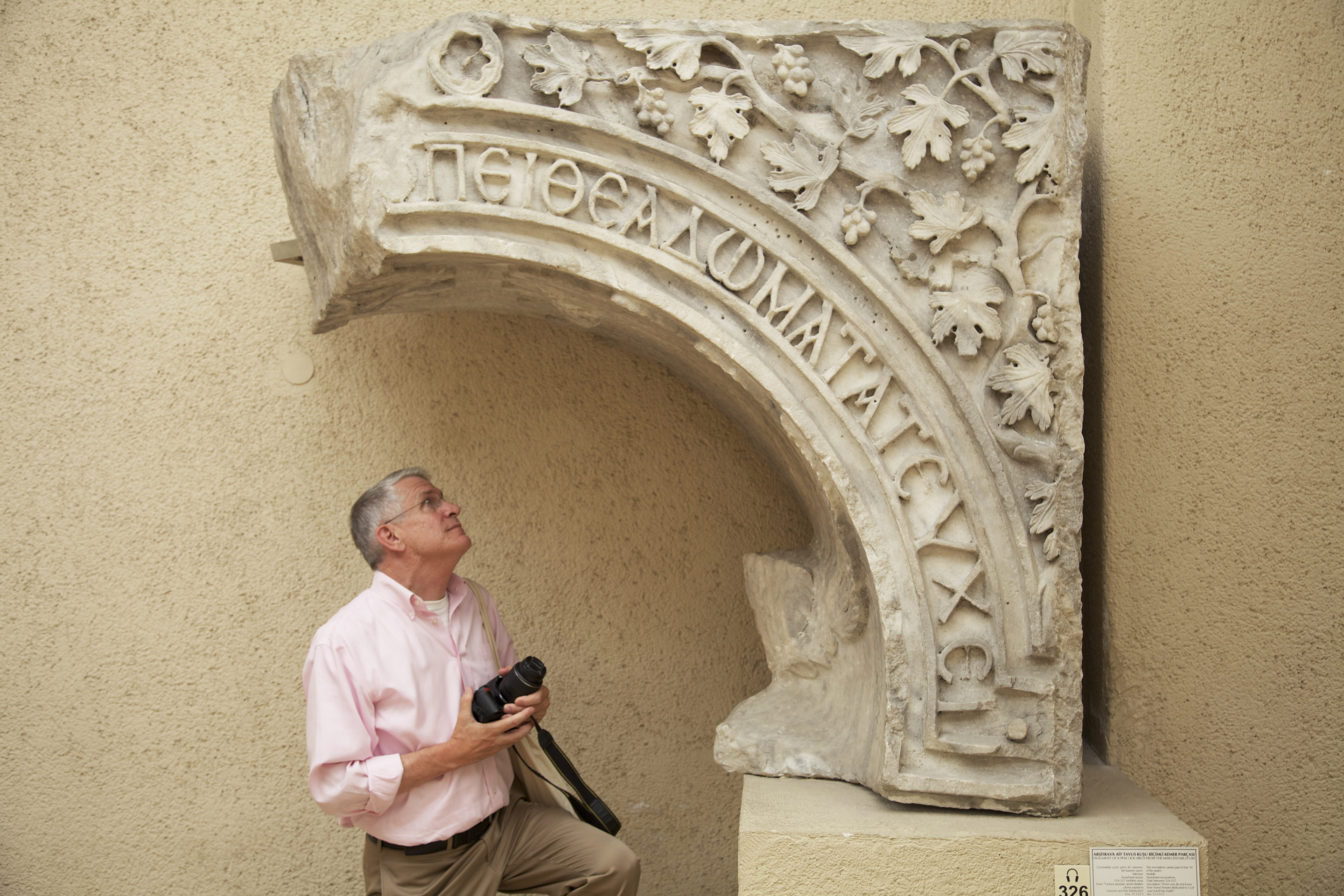 Curriculum Vitae
Robert G. Ousterhout was Professor Emeritus in the History of Art at the University of Pennsylvania. He was the author most recently of Visualizing Community: Art, Material Culture, and Settlement in Byzantine Cappadocia, Dumbarton Oaks Studies 46 (Washington, DC, 2017); and Eastern Medieval Architecture: The Building Traditions of Byzantium and Neighboring Lands, (Oxford University Press, 2019), as well as co-editor of Piroska and the Pantokrator, with M. Sághy (Budapest: Central European University Press, 2019); and The Holy Apostles: A Lost Monument, a Forgotten Project, and the Presentness of the Past, with M. Mullett, Dumbarton Oaks Symposia and Colloquia (Washington, DC, 2020). His fieldwork concentrated on Byzantine architecture, monumental art, and urbanism in Constantinople, Thrace, Cappadocia, and Jerusalem. Since 2011 he co-directed the "Cappadocia in Context" graduate seminar, an international summer field school for Koç University.
Research Interests
Byzantine architecture and monumental art. Constantinople, Cappadocia, Jerusalem.
Selected Publications
Master Builders of Byzantium (2nd paperback edition, University of Pennsylvania Museum Publications, 2008, with translations in Russian and Turkish).
A Byzantine Settlement in Cappadocia, Dumbarton Oaks Studies 42 (2nd revised, paperback edition, Washington, D.C., 2011)
Kariye Camii, Yeniden/The Kariye Camii Reconsidered, edited, with Holger A. Klein and Brigitte Pitarakis (Istanbul: Istanbul Research Institute, 2011)
Osman Hamdi Bey and the Americans: Archaeology, Diplomacy, Art. Exhibition Catalogue (Istanbul: Pera Museum, 2011), edited, with Renata Holod
Approaches to Architecture and Its Decoration: Festschrift for Slobodan Ćurčić (Aldershot: Ashgate, 2012), ed. with M. Johnson and A. Papalexandrou
Architecture of the Sacred: Space, Ritual, and Experience from Classical Greece to Byzantium (Cambridge University Press, 2012), ed. with Bonna D. Wescoat
Palmyra 1885: The Wolfe Expedition and the Photographs of John Henry Haynes, with B. Anderson (Istanbul: Cornucopia, 2016)
John Henry Haynes: Archaeologist and Photographer in the Ottoman Empire 1881-1900 (2nd revised edition, Istanbul: Cornucopia, 2016)
Visualizing Community: Art Material Culture, and Settlement in Byzantine Cappadocia, Dumbarton Oaks Studies 46 (Washington, D.C., 2017)
Eastern Medieval Architecture: The Building Traditions of Byzantium and Neighboring Lands, (Oxford University Press, 2019)