Welcome to one of the country's leading programs for the History of Art and one of the most active organizations on the Penn campus. At home in the Jaffe History of Art Building, we are located at both a physical and a virtual crossroads for Penn's vibrant community of students and teachers.
We offer a wide variety of undergraduate instruction to satisfy the curiosity and pique the interest of students. General liberal arts majors and specialists are provided for equally. Our courses regularly transport students to Philadelphia's museums, galleries and historic sites, and we offer seminars in collaboration with the Institute of Contemporary Art and the Arthur Ross Gallery, in which students devise and organize exhibitions. The department is home to the Visual Studies program and is a significant contributor to the Cinema and Media Studies major.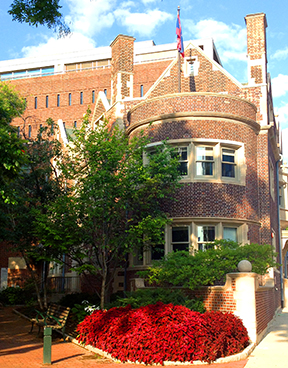 Our renowned graduate program is sustained by the Faculty of the Graduate Group in the History of Art, whose collegial appointments drawn from elsewhere in the University enriches the scope and expands the size of the department. The department also hosts the Graduate Group in the Art and Archaeology of the Mediterranean World, underscoring the breadth of our interests.
We are proud that our faculty have received all of the University's teaching awards (the Abrams, College Alumni Society, and Lindback prizes), and that faculty scholarship has won the major prizes of the College Art Association and the Society of Architectural Historians. History of Art faculty are also recipients of the major fellowships that support scholarly work: Guggenheim, Center for Advanced Study in the Visual Arts, National Humanities Center, Woodrow Wilson Center, etc.
We hope that you enjoy your visit to this site, and we invite you to visit us in person.