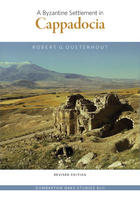 Dumbarton Oaks Publications
Following its initial publication in 2005, A Byzantine Settlement in Cappadocia has become a seminal work in interpreting the rich material remains of Byzantine Cappadocia. In the first systematic site survey from the region, at the settlement known as Çanlı Kilise in Western Cappadocia, the careful mapping and documentation of rock-cut and masonry architecture and its decoration led to a complete reexamination of the place of Cappadocia within the larger framework of Byzantine social and cultural developments. This revised edition builds upon its predecessor with an updated preface, a new bibliography, and a new master map of the Çanlı Kilise site.
Based on four seasons of fieldwork, Ousterhout challenges the commonly accepted notion that the rock-cut settlements of Cappadocia were primarily monastic. He proposes instead that the settlement at Çanlı Kilise was a town, replete with mansions, hovels, barns, stables, storerooms, cisterns, dovecotes, wine presses, fortifications, places of refuge, churches, chapels, cemeteries, and a few monasteries—that is, features common to most Byzantine communities. A Byzantine Settlement in Cappadocia has led to a rethinking of such sites and to a view of Cappadocia as an untapped resource for the study of material culture and daily life within the Byzantine Empire.