She/Her/Hers
Department Chair
203 Jaffe Building
215/898-3247

Curriculum Vitae
OFFICE HOURS BY APPOINTMENT
Julie Nelson Davis specializes in the arts and material cultures of eighteenth- and nineteenth-century Japan, with a focus on prints, paintings, and illustrated books. One of the leaders in the field of ukiyo-e ("images of the floating world"), Davis takes an interdisciplinary approach to understanding these works in context, exploring issues related to artistic practice, authorship, gender, and censorship, among others. Selected as a Guggenheim Fellow for 2021, Davis is working on a new project about imitation, homage, and fabrication in ukiyo-e painting as well as second project on artist Katsushika Hokusai (1760-1849) and illustrated books.
Davis's first book, Utamaro and the Spectacle of Beauty (Reaktion Books, 2007), explores the status of the artist and the construction of gender, identity, sexuality and celebrity through the work of Kitagawa Utamaro (1753-1806). Considered a groundbreaking study of the ukiyo-e artist in his time, this book was recently reissued in a second edition with a new preface and additional images (2021). Her second book, Partners in Print: Artistic Collobration and the Ukiyo-e Market (University of Hawai'i Press, 2015), offers a new approach to understanding the print culture in early modern Japan within the context of networks of commercial and artistic collaboration. By revealing how aesthetic partnerships were responsive to and shaped by the desires of consumers in a specific place and time, the book contributes to a larger discussion about the role of art and the place of the material text in the early modern world.
In Picturing the Floating World: Ukiyo-e in Context (2021), her most recent book, Davis debunks long-held myths about ukiyo-e as little appreciated in their own time, writing a more nuanced evaluation wherein consumers, critics, and makers produced and sold, appraised and collected, described and recorded ukiyo-e as valuable and artistic works. Here, Davis recovers a multilayered world of pictures where some were made for profit in a commercial market while others were designed for private coteries and high-ranking connoisseurs seeking to enrich their cultural capital, and how ukiyo-e as a genre was thus under construction in its own time.
Davis has authored numerous articles and essays on early modern and modern Japanese art and published in English, French, Japanese, and Norwegian. In 2017 Davis was the guest curator for the exhibition, "Inventing Utamaro: A Japanese Masterpiece Rediscovered," and she also supervised the online exhibition and catalogue for the Pulverer Collection, both at the National Museum for Asian Art. She is currently Editor-in-Chief for caa.reviews and previously served as the president for the Japan Art History Forum (2014-2020).
Here at Penn Davis teaches a wide range of courses on East Asian art, with a focus on the period 1600 to the present. Her research interests are often explored in collaboration with students as well as through curatorial projects, object-based courses on the history of the book in East Asia, Japanese prints and illustrated books, as well as site seminars on modern and contemporary art. Davis and her students are currently organizing an exhibition of the Arthur Tress Collection of Japanese Illustrated books, slated to open at the Kislak Center for Special Collections, Rare Books and Manuscripts in August 2022. She has served as primary advisor for dissertations on a wide array of subjects, such as the nineteenth-century exchange between Tokyo and Paris, the Shirakaba group of early twentieth-century modernists, the color revolution in ukiyo-e, the representation of imagined worlds in eighteenth-century Japan, and nineteenth-century Yokohama photography, as well as been secondary advisor for many others. She has also been a visiting professor at the Kyoto Consortium for Japanese Studies (2014), the Ishibashi Visiting Professor at Heidelberg University (2019), and is on the faculty of the Rare Book School (2019 to present). Davis received the 25th Anniversary Award for Excellence in Advising from the Trustees' Council of Penn Women in 2012.
Professor Davis is an active contributor to the Center for East Asian Studies and was founding Director of the Penn Forum on Japan from 2015 to 2020. With Professors Linda H. Chance and Ayako Kano, Department of East Asian Languages and Cultures, Davis co-founded the Penn Faculty Working Group for Reading Asian Manuscripts (RAMS), in support of the study of premodern Japanese orthography (hentaigana and kuzushiji). In 2018-2019, Davis was also the topic director for the Wolf Humanities Center on Stuff and participates in numerous campus study groups.
After receiving her BA from Reed College, Davis completed her M.A. and Ph.D from the University of Washington and studied at Gakushūin University in Tokyo. Prior to arriving at Penn in 2002, Davis taught at the University of Washington (1997-1999) and was on the faculty of Oberlin College (1999-2002). Professor Davis has held fellowships at the Clark Art Institute, Gakushūin University, the Sainsbury Institute for the Study of Japanese Arts and Cultures, and the Smithsonian. Her research has been further supported by the Center for East Asian Studies, Metropolitan Center for Far Eastern Art, the Northeast Asia Council of the Association for Asian Studies, the Weiler Family Dean's Leave, the University Research Foundation, the Wolf Humanities Center, and others.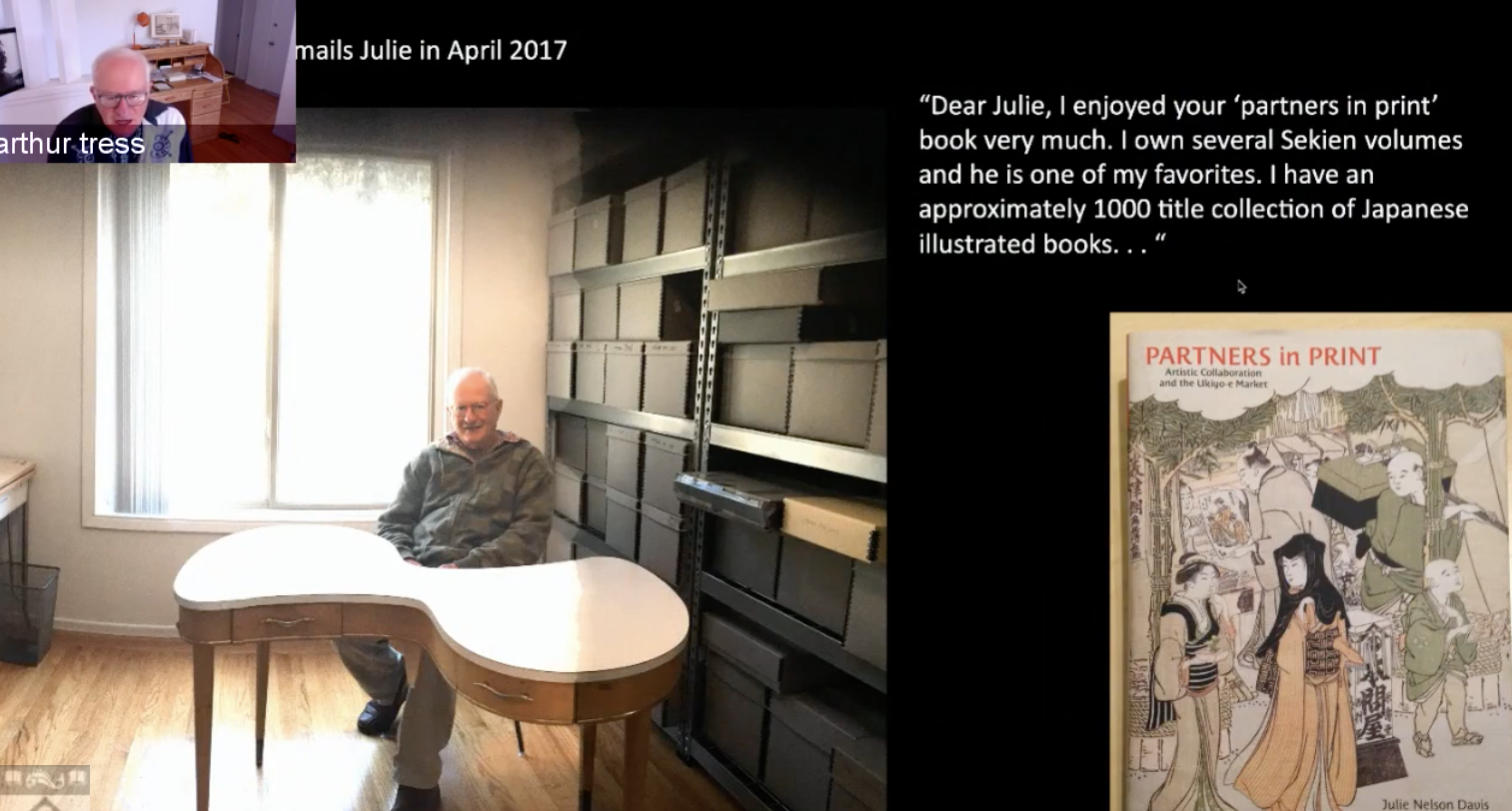 Click HERE for a recording of "Rare Books: How a Met-worthy Collection of Japanese Illustrated Books Landed at Penn." This talk was recorded live on November 12, 2020. The program was co-sponsored by the Penn Libraries, Penn Alumni Education, and Penn Alumni Travel as part of the Global Discovery Series.
Courses Taught
ARTH 1020/VLST 2320: World Art: 1400-Now (instructors vary from semester to semester)
ARTH 1030/EALC 0100: Art and Civilization in East Asia
ARTH 2130/ARTH 6130/EALC 0140: Arts of Japan
ARTH 2580/ARTH 6580: Early Modern Japanese Arts and the City of Edo
ARTH 2900/ARTH 6900/CIMS 2900: Post-war Japanese Cinema and Visual Culture
ARTH 3060: Venice Biennale Spiegel-Wilks Seminar
ARTH 3130/EALC 2100: East Asian Art Seminar
ARTH 5130/EALC 7141: Ukiyo-e: Beyond the Great Wave
ARTH 5160: The Concept of the Artist in East Asia
ARTH 5170: History of the Book in East Asia
ARTH 5171: Japanese Illustrated Books
ARTH 7140: East Asian Art Seminar (topics vary)
ARTH 7740: Japan and Paris
Affiliations
Field of Study