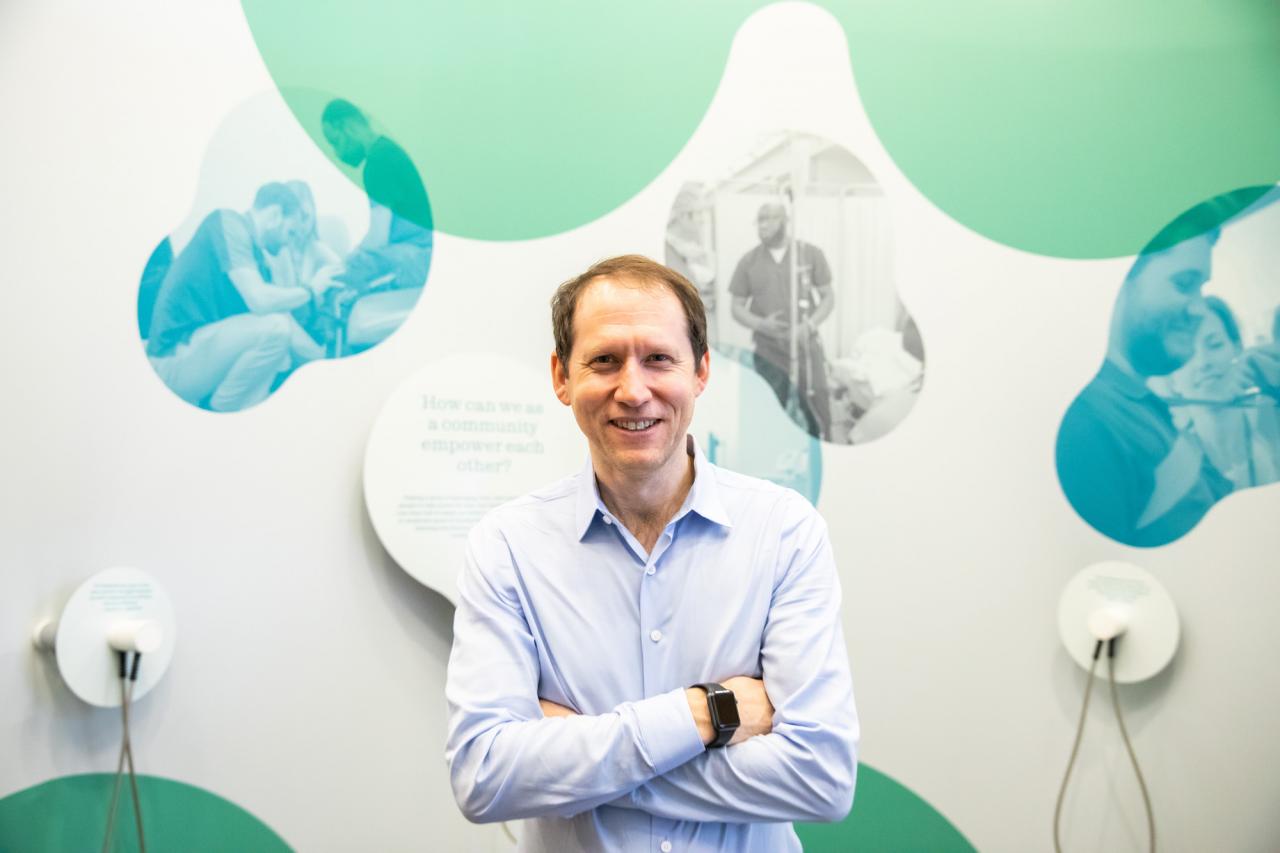 Fisher-Bennett Hall 334
215-898-7354
Aaron Levy, PhD, MPhil is the inaugural Director of Health Humanities Initiatives at Penn Medicine; Senior Lecturer in the Departments of English and the History of Art; and Senior Fellow in the School of Social Policy & Practice at the University of Pennsylvania. He is also the Executive Director of Public Trust. He received his BA and MPhil from the University of Pennsylvania, and was awarded his PhD from the School of Fine Art, History of Art, and Cultural Studies at the University of Leeds in the UK.
A longtime advocate for the healing potential of the arts and humanities, Dr. Levy is the Director of the Penn Medicine Listening Lab, an innovative approach to patient experience which has produced over 70 stories from patients, caregivers, staff, and providers across six hospitals that have been accessed over 30,000 times. He is also the Director of the Health Ecologies Lab and co-Director of Rx/Museum, initiatives that reflect his dedication to new approaches to listening and care. These efforts investigate how the humanities and social sciences can support the complex matrix of factors that impact healing, and raise awareness regarding the diverse contributors affecting the well-being of individuals and communities. He is the author or editor of several publications about these topics including: On Listening as a Form of Care (2020); On the Poetics and Politics of Health (2021); The Language of Care: Stories from the Penn Medicine Listening Lab (2021); and Rx/Museum: 52 Essays on Art and Reflection in Medicine (2022). He has developed graduate and undergraduate core courses and electives on these topics for the School of Arts and Sciences, the School of Social Policy and Practice, the Weitzman School of Design, and the Perelman School of Medicine. He also established and leads the first ever educational partnership between the School of Arts and Sciences and the Barnes Foundation, which explores the museum as a space of social care through undergraduate courses and other efforts.
Dr. Levy has lectured extensively, both nationally and internationally, on the power of the expressive arts to transform socio-cultural norms and create openings for change to occur. As a non-profit leader and curator, his work seeks to challenge seemingly intractable socio-political problems and address pervasive inequities and social suffering in Philadelphia and beyond. He is the founding Director of Public Trust, a non-profit organization that seeks to foster learning and creative collaboration on behalf of struggles for justice and equality. Previously, he served as the Executive Director and Chief Curator of Slought, a twenty-year organizational effort to engage the public in multifaceted dialogue about topical cultural and socio-political issues facing Philadelphia and the world. With an expansive network of university and community collaborators, Dr. Levy has developed and led hundreds of interdisciplinary programs and symposia across the humanities, art and design, social sciences, medicine, and other fields, featuring leading scholars from Philadelphia and beyond. He has also curated over 50 exhibitions and installations with artists and filmmakers such as Carolee Schneemann, Agnes Varda, Werner Herzog, Hermann Nitsch, Peter Greenaway, Susan Meiselas, Arakawa, Camille Henrot, and Devin Allen, among others.
For more than twenty years, Dr. Levy has also conceived and curated several large-scale projects in both institutional and public settings around the world. These include serving as co-curator of Into the Open (2008-9) for the US Pavilion at the Venice Biennale for Architecture, which was organized on behalf of the US Department of State and the National Endowment for the Arts. This project explored the work of grassroots architects working collaboratively to invigorate community activism and environmental policy, and traveled to Parsons School of Design and the National Constitution Center. He also co-led the Perpetual Peace Project (2010-11), a global peace movement launched in partnership with the International Peace Institute, the United Nations University, and the European Union National Institutes of Culture. This effort included an exhibition at the New Museum and several international events, workshops, symposia, and other programs. Other projects include Mixplace Studio (2009-12), produced with People's Emergency Center and Estudio Teddy Cruz, which was a multi-year summer school and mentorship program for young adults in Philadelphia experiencing hardship. Dr. Levy has also co-organized several large-scale research initiatives and digital archives, including Ai Weiwei's Fairytale Project | 童话项目 | Märchen-Projekt (2011); A People War, a visual archive of the Nepal Conflict (2014); The Right to the Image, with the Syrian anti-war media collective Abounaddara (2015); and Add Oil Machine 打氣機 (2015), an online exhibition about the Hong Kong Umbrella movement. More recently, he organized Photographies of Conflict, a two-year exhibition cycle with artist collectives who use photography to contest dominant narratives of conflicts, and No Mud, No Lotus, a retrospective of Louverture Films exploring how filmmakers, thinkers, and activists can engage and record some of the most devastating and urgent issues of our day (2018-19).
He is the author or editor of numerous publications, including Cities Without Citizens (2002); William Anastasi's Pataphysical Society (2005); The Revolt of the Bees (2005); Rrrevolutionnaire: Conversations in Theory (2006); Helene Cixous: Ex-cities (2007); Tractatus Post-Historicus (2009); On the Living History of the Venice Architecture Biennale (2010); John Cage's How to Get Started (2010); Perpetual Peace: A Philosophical Sketch (2010); Four Conversations on the Architecture of Discourse (2011); and Evasions of Power: On the Architecture of Adjustment (2011). Additionally, his filmography includes In Conversation at Acconci Studio, New York (2007); Tooth and Nail: Film and Video by Dennis Oppenheim, 1970-1974 (2007); Werner Herzog: On the Ecstasy of Ski-Flying (2007); Democracy and Disappointment: On the Politics of Resistance (2007); Peter Weibel, Rewriter (2009); Rewriting Perpetual Peace (2011); On the Political Equator (2012); Utterly Precarious: Carolee Schneemann (2013); and Art, or Listen to the Silence: Soun-Gui Kim with Jacques Derrida and Jean-Luc Nancy (2014).
Dr. Levy is a member of the Selection Committee for the Artist Protection Fund, an initiative of the Institute for International Education; has twice served on the Federal Advisory Committee on International Exhibitions (FACIE); and was a United States Cultural Envoy to Pakistan in 2010. From 2015 to 2023, he was on the board of directors of AICA-USA, the International Art Critics Association. Prior to Levy's life in the academy and non-profit sector, he was a poet and visual artist.
Affiliations