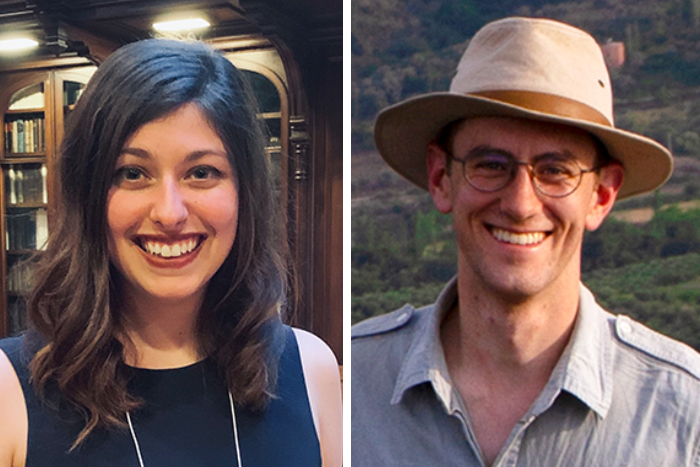 May 17, 2021
Robyn Barrow and John Sigmier receive Fulbright Grants
Robyn Barrow, from Little Rock, Arkansas, is a Ph.D. candidate in history of art in the School of Arts & Sciences. She was awarded a Fulbright-National Science Foundation Arctic Research Grant to conduct research in Iceland, studying belief systems surrounding wood and the effects of deforestation on artmaking and manuscript production in medieval Iceland. She studies art, materiality, and trade in the medieval Nordic world, with an interest in the relationships between European Scandinavians, Indigenous communities, and the Arctic landscape. Barrow received a bachelor's degree from Rhodes College in Memphis, Tennessee, and a master's degree in medieval art at the Courtauld Institute of Art in London.
John Sigmier, of Rocky River, Ohio, is a Ph.D. candidate in the art and archaeology of the Mediterranean world graduate group studying Roman archaeology and architectural history in the School of Arts & Sciences. He was awarded a Fulbright to conduct research in France based on his dissertation, drawing upon archaeological evidence to explore how construction knowledge was shared in the northwestern Roman Empire. At Penn, he is a Kolb Junior Fellow and has served on the board of the Penn Museum Graduate Advisory Council. He has also worked at archaeological sites throughout the Mediterranean and currently excavates in Turkey at the ancient city of Sardis. He received his bachelor's degree from Harvard University and his master's degree from the University of Oxford.
Click HERE for more information.