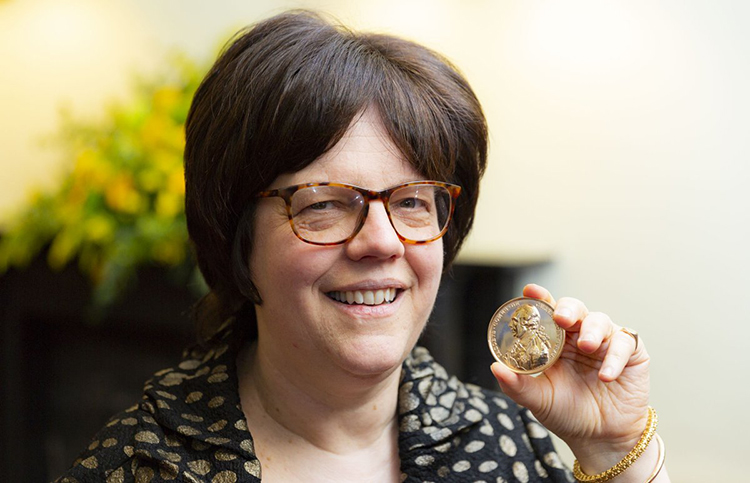 February 13, 2019
Kathleen James-Chakraborty, PhD'90, presented with the Royal Irish Academy Gold Medal, becoming the first woman to receive the award.
The Royal Irish Academy's Gold Medals are considered the highest scholarly accolade in Ireland.
The architectural historian, from the UCD School of Art History and Cultural Policy, was awarded the prestigious prize by Minister for Education and Skills Joe McHugh, TD, at a special ceremony at the RIA.
The Academy's Gold Medals are considered the highest scholarly accolade in Ireland, with only two awarded each year.
Professor James-Chakraborty received her Gold Medal for her work in the humanities, and is the seventh UCD academic to receive the honour since its inception in 2005.
Astrophysicist Professor Stephen J. Smartt, of Queen's University Belfast, received a medal for his contributions to the mathematical sciences.
Minister for Education and Skills, Joe McHugh TD said: "[These] awards demonstrate the commitment of the academics to the highest standards of scholarship.
"They have been judged by their peers to have made outstanding contributions in their respective fields and their work is an inspiration to our future generations of researchers."
Professor Peter Kennedy, President of the Royal Irish Academy added: "Through her insight, [Professor James-Chakraborty]'s reach has advanced the boundaries of her discipline.
"She has hugely advanced our understanding of modern architecture through her scholarship, her public engagement, and through her role as prominent public intellectual."
Paul O'Toole, CEO of the Higher Education Authority said: "We need trailblazers in research to explore, to challenge and to explain – the gold medal winners are experts in doing this."
A professor of Art History at University College Dublin, Professor James-Chakraborty was Mercator Visiting Professor at the Ruth-Universität Bochum in 2005, and in 2015 and 2016 she was the Vincent Scully Visiting Professor of Architectural History at the Yale School of Architecture.
Prior to coming to UCD in 2007, she was a professor in architecture at the University of California, Berkeley.
A past chair of the Irish Architecture Foundation, she is a current member of the board of the Society of Architectural Historians, and of the Building of Ireland Charitable Trust, the Chester Beatty Library and the National Museum of Ireland, where she chairs one of the two standing committees of the board.
To date the UCD academic has authored four monographs, more than 70 book chapters, journal articles and contributions to exhibition catalogues, and she has co-edited six collections of essays and special journal issues.
The RIA's Gold Medals, sponsored by the Higher Education Authority, were established in 2005 to acclaim Ireland's foremost thinkers and acknowledge the global impact of their work.
Recipients are judged by their peers to have made outstanding contributions in the fields of the humanities, social sciences, physical and mathematical sciences, life sciences, engineering sciences and the environment and geosciences.
The Royal Irish Academy (RIA) is an all-Ireland, independent, academic body that promotes study and excellence in the sciences, humanities and social sciences.
It is the principal learned society in Ireland and has approximately 500 members who are elected in recognition of their academic achievements.
Previous Gold Medal winners:
• 2005 Professor John Dillon, Professor Michael Coey,
• 2006 Professor Peter Neary Professor James Dooge (UCD)
• 2007 Professor George Eogan (UCD) Dr John Fuller Atkins
• 2008 Professor David Livingstone Professor Charles Hepworth Holland
• 2010 Professor Cormac Ó Gráda (UCD) Professor Samson Shatashvili
• 2011 Professor William Schabas Professor John O Scalan (UCD)
• 2012 Professor Luke O'Neill Professor Dermot Moran (UCD)
• 2013 Professor Colin O'Dowd Professor Rob Kitchin
• 2015 Professor Philip Lane Professor Alan Smeaton
• 2016 Professor Louis Cullen Professor Fergus Shanahan
• 2017 Professor Malcolm MacLachlan Professor John Walsh (UCD)
Click HERE for the article.