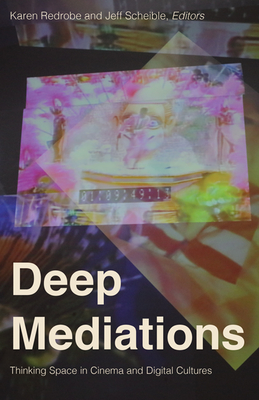 February 4, 2022
Listen to Karen Redrobe (Penn) and Jeff Scheible (King's College, London) in conversation with Jules O'Dwyer (Cambridge) about their new book, Deep Mediations: Thinking Space in Cinema and Media Studies on the New Books Network.
CLICK HERE TO LISTEN TO THE EPISODE.
In Deep Mediations: Thinking Space in Cinema and Digital Cultures (U of Minnesota Press, 2021), co-editors Karen Redrobe and Jeff Schieble argue that the notion of "depth" is a multivalent one in the field of the humanities. In literary criticism, "depth" is a term that can qualify the profoundness of a given text and the ways that we analyze it, while for film theorists "depth" typically refers to the volume and spatial coordinates of the moving image. In the geohumanities, "deep time" names broad stretches of geological time, while in recent political discourse, the "deep state" suggestively evokes ideas about covert networks of political control. Across a range of essays on topics ranging from cinematic depth of field to deep-fake pornography, Deep Mediations brings together the work of leading scholars who collectively navigate the legacies of depth models of thought and vision, particularly in light of the "surface turn" and as these models impinge on the realms of cinema and media studies.