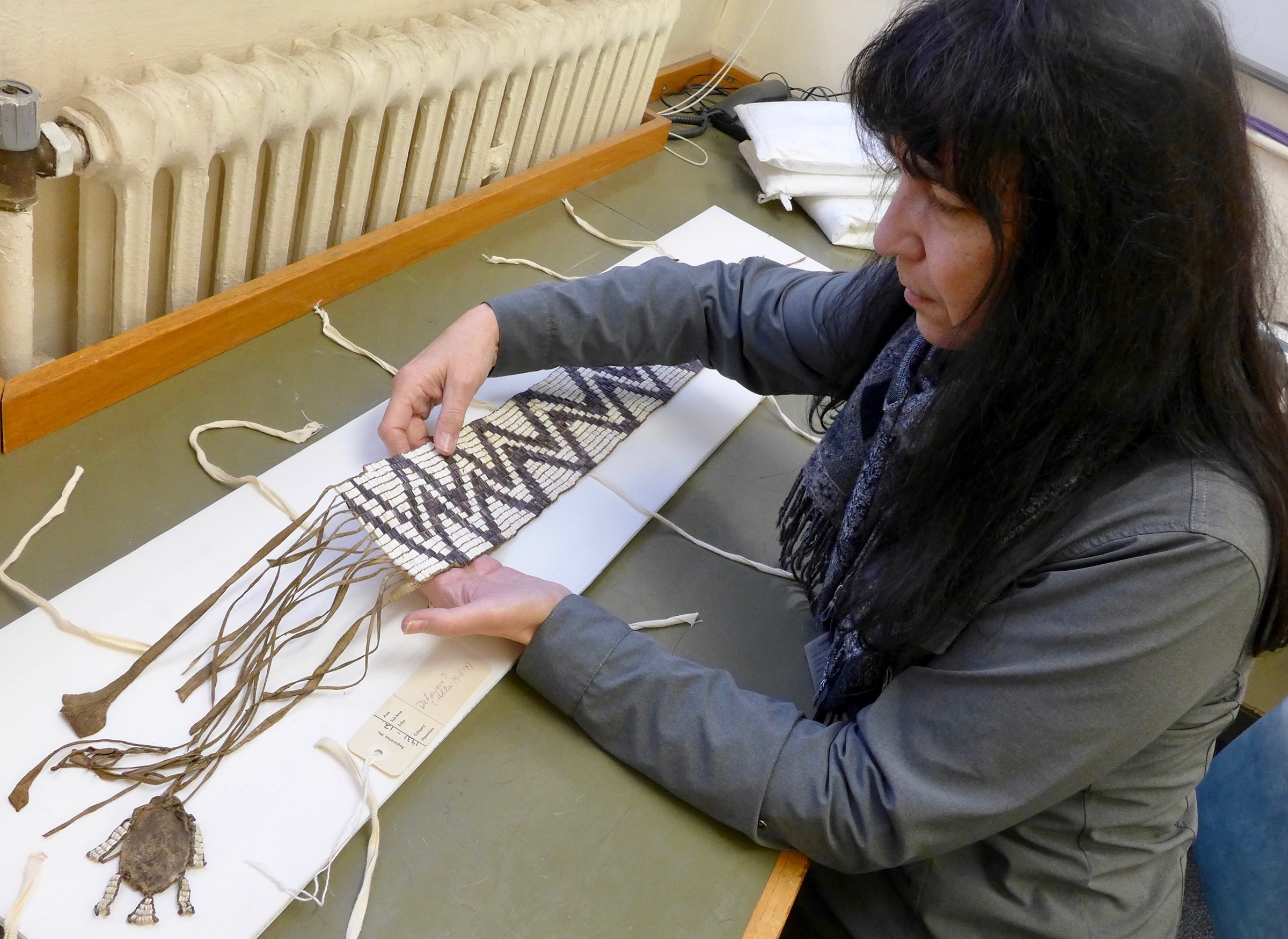 Virtual Colloquium
Friday, October 23, 2020 - 3:30pm
VIRTUAL COLLOQUIUM - Dr. Margaret M. Bruchac, "Listening to Object Witnesses: Reading and Recovering Wampum in Museum Collections"
via Zoom
Margaret Bruchac is Associate Professor of Anthropology and Coordinator of the Native American and Indigenous Studies Program at the University of Pennsylvania
Abstract:
Historically, Indigenous wampum belts – objects woven together with whelk and quahog shell beads, plant fiber, and leather strands – were created to encode and communicate tribal relations and diplomatic understandings. In museums, however, they are often perceived as difficult to identify. Having been detached from the relations that gave them meaning, they are displayed exotic, mysterious objects that represent fractured memories and lost connections. How do these objects speak to those who collect, curate, observe, and claim them? In this talk, Dr. Bruchac discusses strategies for recovering otherwise mysterious object histories through material analyses, comparative studies, and critical re-assessments of imposed museological categories (e.g., art, artifact, utilitarian, etc.) that distanced objects from their origins and isolated them from others like themselves. Case histories include iconic objects – such as a 17th century wooden war club embedded with re-purposed wampum beads, and an 18th century "Path Belt" housed in the Penn Museum – that function as "object witnesses" to entangled colonial settler/Indigenous encounters. In many cases, memories can be reawakened through more nuanced and holistic interpretations of Indigenous ecosystems, knowledges, and cultures. Restorative research on Indigenous wampum and other heritage objects can also enable better understandings of Indigenous continuities that have been, and continue to be, ruptured by colonial and museological intrusions.
Biography:
Dr. Margaret M. Bruchac – in her multi-modal career as a performer, ethnographer, historian, archaeologist, and museum consultant – has long been committed to critical analyses of colonial histories and interpretations of Indigenous histories that challenge erasures and stereotypes. At the University of Pennsylvania, Dr. Bruchac is an Associate Professor of Anthropology, Associate Faculty in the Penn Cultural Heritage Center, and Coordinator of Native American and Indigenous Studies (see: https://anthropology.sas.upenn.edu/people/margaret-bruchac). She has authored multiple research articles, including, "Broken Chains of Custody: Possessing, Dispossessing, and Repossessing Lost Wampum" in the Proceedings of the American Philosophical Society 162 (1) (March 2018): 56-105 (see: https://www.amphilsoc.org/publications/proceedings-volume-162-number-1). Her 2018 book – Savage Kin: Indigenous Informants and American Anthropologists (University of Arizona Press) – received the inaugural Council for Museum Anthropology Book Award. She directs a restorative research project – "The Wampum Trail" – that focuses on the history, meaning, materiality, curation, repatriation, and revitalization of historical wampum objects over time (see: https://wampumtrail.wordpress.com/).
PER THE SPEAKER'S REQUEST, A RECORDING OF THIS TALK WILL NOT BE MADE AVAILALBE TO THE PUBLIC.