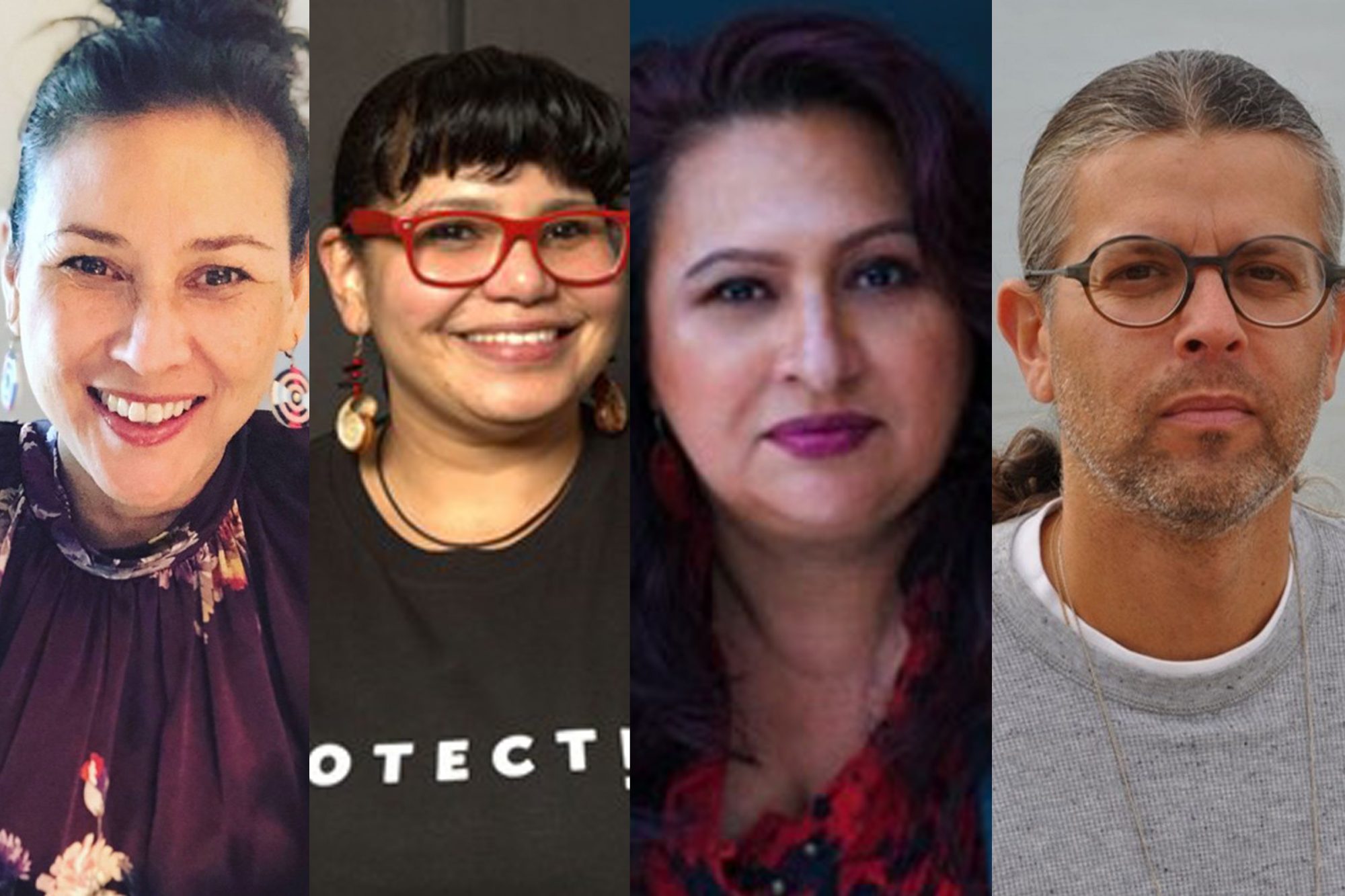 Thursday, September 30, 2021 - 6:00pm to 7:30pm
ICA Philadelphia, 118 S. 36th Street
About
This round table discussion, moderated by Tailinh Agoyo, will feature artist and muralist Priscilla Bell (Taino), playwright and educator Murielle Borst-Tarrant (Kuna/Rappahannock Nations), and multi-disciplinary artist Jason Wesaw (Potawatomi). Together, they will explore the manifold meanings and manifestations of Native art, reflecting a plurality of artistic practices and perspectives, and engaging questions of representation, audience, and culture. Manifold Meanings: Indigenous Art and Perspectives is the inaugural event of "Indigenous Arts in Focus," a year-long program series at the University of Pennsylvania generously supported by and coordinated in collaboration with The Sachs Program For Arts Innovation, the History of Art Department, We Are the Seeds of CultureTrust, and Natives at Penn.
Bios
Tailinh Agoyo is co-founder and director of We Are the Seeds of CultureTrust, a non-profit organization committed to amplifying Indigenous voices through the arts. Agoyo is also the host of 'Rise and Thrive', a radio show that honors the voices of Indigenous artists, performers, educators, and change-makers. She has worked in film and television for more than thirty years and helped produce the beautifully illustrated children's book I Will Carry You in 2019. Her own artwork is focused on capturing the vibrancy of Indigenous people today, including The Warrior Project, a collection of photos of Native youth and their continuing commitment to environmental stewardship. In addition to these many projects and roles, she is mom to four wonderful children.
Now in its fifth year, We Are the Seeds of CultureTrust has produced over 140 public programs, increasing agency and direct engagement between Indigenous peoples and audiences. The organization was founded by a team of Indigenous women who are dedicated to honoring Native arts and cultures as a means to understanding Indigenous peoples, the history of what is now called the United States, and who we all are as American people today. We Are the Seeds produces cultural events that feature Indigenous fine art, music, dance, fashion, literary, and culinary arts. Additionally, Seeds hosts interactive art programs that focus on educating and empowering youth.
Priscilla Bell was born in North Philadelphia and raised in the Hunting Park section of the city. After graduating from Community College of Philadelphia, Bell went on to receive her BFA in 2D Fine Arts from Moore College of Art and Design, followed by an MFA in Painting in 2010. Inspired by her family, surroundings, and cultural heritage, her art explores issues such as parenthood, BIPOC rights, urban decay, and what it means to be a woman artist. Bell has been the recipient of the Leeway Art & Change grant (2017), "Taino Storyteller of the Year" award (2017), "Phenomenal Woman" award (2020), and "Taino Muralist of the Year" award (2020). She also works as a freelance muralist with Mural Arts and is a teaching artist for the Jubilee School.
Murielle Borst-Tarrant (Kuna/Rappahannock Nations) is an author, playwright, director, producer, cultural artist, educator, and human rights activist dedicated to deconstructing art pedagogy in Native communities in urban areas across the country and in the New York City education system. Nominated for the Rockefeller grant in 2001, Borst-Tarrant won a Native Heart Award and was the only Native American Woman to be selected by the Olympic Games in Sydney, Australia at the Sydney Opera House for her one-woman show, More than Feathers and Beads. Named in American Theater Magazine as one of the most influential women in American Theater, Borst-Tarrant is also the Artistic Director of Safe Harbor Indigenous Collective and consultant for La MaMa Experimental Theatre Indigenous Initiative. She has recently produced, written, and directed Don't Feed the Indians—A Divine Comedy Pageant! at La MaMa and continues to consult with many urban and non-urban universities on the development of Native theater programming. In 2020, she was selected for The Andrew W. Mellon Foundation's National Playwright Residency Program.
Jason Wesaw is a multi-disciplinary artist, creating works in an array of media including ceramics, drawings, textiles, and traditional craft objects. His projects are informed by the land and relate stories that are rooted in place, reclamation, and the acknowledgement of spirit. His creative lifestyle balances being a maker with dedicating time to repatriation, working with old seed varieties in the garden, and assisting communities across the Great Lakes to share traditional knowledge as a means for intertribal learning and living. Wesaw is Potawatomi (Turtle Clan) and lives near the historic Potawatomi settlement of Rush Lake, in southwestern Michigan. He has three children and a loving network of family, friends, and ceremonial relatives from across Turtle Island. He creates art for Tribal Nations, markets, galleries, and exhibitions, and his work is in the permanent collections of the Eiteljorg Museum (IN), Grand Valley State University (MI), and the Field Museum (Chicago, IL).
Support
Programming at ICA has been made possible in part by the Emily and Jerry Spiegel Fund to Support Contemporary Culture and Visual Arts and the Lise Spiegel Wilks and Jeffrey Wilks Family Foundation, and by Hilarie L. & Mitchell Morgan.
Register
Space is limited* for this program, so registration is required. Click HERE to register via eventbrite.

Based on the revised guideline provided by the University of Pennsylvania, by RSVPing to this event, you attest to being fully vaccinated. You may also attend this event online via Zoom. Please also note that masks will be required in all indoor settings regardless of vaccination status.

*In the event we reach capacity, visitors will be admitted on the basis of when they arrive at ICA. Registration on Eventbrite facilitates the check-in process, but does not guarantee entrance.

You may instead choose to attend this program virtually, via Zoom. Click HERE to register. Captioning will be available on Zoom.

For questions, contact Natalie Sandstrom, Program Coordinator at nsand@ica.upenn.edu.