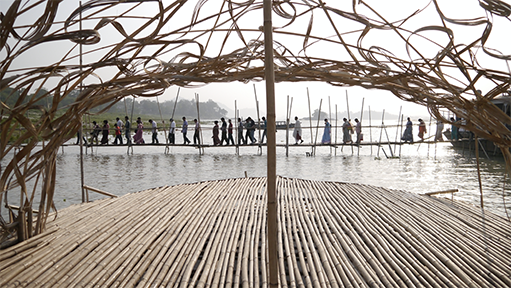 Colloquium
Friday, April 15, 2022 - 3:30pm
COLLOQUIUM - Sonal Khullar, "Amphibian Journeys: Art, Event, and Environment in India"
Focusing on projects in northeastern India, this paper considers a turn to site-specific, socially engaged, and collaborative artistic practices in South Asia over the past two decades. Contemporary artists have adopted the role of fieldworkers, moving between sites over an extended period to critique modernist and capitalist systems. Through new languages of art and forms of relation, their practice challenges structures of the art world and enacts a critical regionalism.
THIS IS A HYBRID EVENT
Meyerson Hall B3 as well as via Zoom for those who do not wish to attend in person.
:: You must be fully vaccinated to attend an event on Penn's campus. Please complete a PennOpen Campus prescreening on the day of your visit. Be prepared to show your Green Pass on request. ::
Click HERE for the Zoom link to this event.
Meeting ID: 923 7085 9842
Passcode: 619502