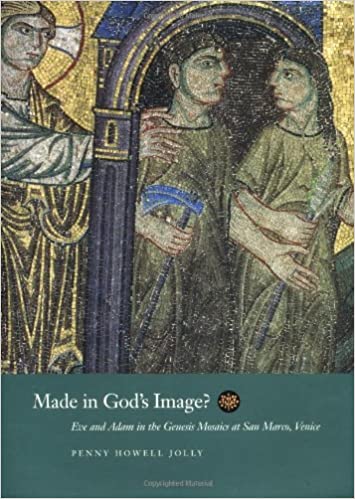 University of California Press
The stunning mosaics that illustrate the story of Creation in the church of San Marco in Venice are the focus of Penny Howell Jolly's compelling and provocative book. Scholars of medieval art have long been interested in the Genesis mosaics because they copy a nearly destroyed fifth-century illuminated Greek manuscript known as the Cotton Genesis. But instead of seeing the mosaics as a vehicle for reconstructing a lost cycle of paintings, Jolly presents them as a social document revealing the essential misogyny that existed in thirteenth-century Venice.

Jolly analyzes more than twenty scenes, one by one in narrative order, and her perceptive reading goes well beyond what the Genesis Vulgate text says about Eve and Adam. The mosaics establish Eve as the culpable character from the very moment of her Creation, says Jolly, and depict her as dangerous and unrepentant at the end.

Incorporating both feminist religious and narratological studies, Jolly poses important questions on the nature of visual language as opposed to verbal language. The very ability of visual forms to recall a rich variety of references is one source of their power, and propaganda must have enough breadth of reference to be read by diverse groups. The San Marco cupola, Jolly maintains, is dealing in powerful propaganda, and her pictorial observations offer an articulate and refreshing new view of this well-known work.
https://www.amazon.com/Made-Gods-Image-Genesis-Discovery/dp/0520205375/ref=sr_1_1?dchild=1&keywords=jolly+eve+adam+genesis+mosaic&qid=1614802088&s=books&sr=1-1