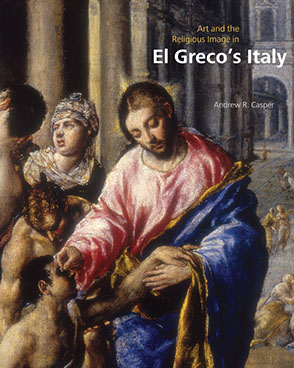 Penn State University Press
Art and the Religious Image in El Greco's Italy is the first book-length examination of the early career of one of the early modern period's most notoriously misunderstood figures. Born around 1541, Domenikos Theotokopoulos began his career as an icon painter on the island of Crete. He is best known, under the name "El Greco," for the works he created while in Spain, paintings that have provoked both rapt admiration and scornful disapproval since his death in 1614. But the nearly ten years he spent in Venice and Rome, from 1567 to 1576, have remained underexplored until now. Andrew Casper's examination of this period allows us to gain a proper understanding of El Greco's entire career and reveals much about the tumultuous environment for religious painting after the Council of Trent.
Art and the Religious Image in El Greco's Italy is a new book in the Art History Publication Initiative (AHPI), a collaborative grant from the Andrew W. Mellon Foundation. Thanks to the AHPI grant, this book will be available in popular e-book formats.
https://www.psupress.org/books/titles/978-0-271-06054-5.html