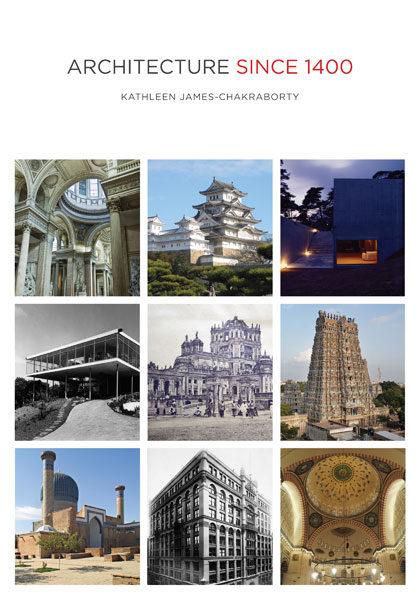 University of Minnesota Press
The first global history of architecture to give equal attention to Western and non-Western structures and built landscapes, Architecture since 1400 is unprecedented in its range, approach, and insight. From Tenochtitlan's Great Pyramid in Mexico City and the Duomo in Florence to Levittown's suburban tract housing and the Bird's Nest Stadium in Beijing, its coverage includes the world's most celebrated structures and spaces along with many examples of more humble vernacular buildings. Lavishly illustrated with more than 300 photographs, plans, and interiors, this book presents key moments and innovations in architectural modernity around the globe.
Deftly integrating architectural and social history, Kathleen James-Chakraborty pays particular attention to the motivations of client and architect in the design and construction of environments both sacred and secular: palaces and places of worship as well as such characteristically modern structures as the skyscraper, the department store, and the cinema. She also focuses on the role of patrons and addresses to an unparalleled degree the impact of women in commissioning, creating, and inhabiting the built environment, with Gertrude Jekyll, Lina Bo Bardi, and Zaha Hadid taking their place beside Brunelleschi, Sinan, and Le Corbusier.
Making clear that visionary architecture has never been the exclusive domain of the West and recognizing the diversity of those responsible for commissioning, designing, and constructing buildings, Architecture since 1400 provides a sweeping, cross-cultural history of the built environment over six centuries.
https://www.upress.umn.edu/book-division/books/architecture-since-1400